Courses

Appealing to the eye and easy to learn in all our locations in Cologne, Aachen, Bonn, Essen and Duisburg you can attend the regular Forró classes. You are always welcome to visit us for a free trial lesson. To get the latest information about courses, parties, etc. you can join our WhatsApp group: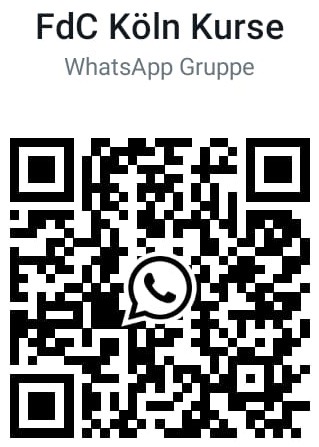 !!!!Free Dancing is always Free of Charge!!!!
Levels of Forró classes:
Beginners (and BeginnersPlus): Start learning the basic steps and turns throughout around 6 months of classes.
Intermediate: After finishing beginners courses with good knowledge and experience of basic steps and turns, intermediate courses show specific topics and connected turns and steps as well as techniques and help to find dancing styles.
Advanced: After a lot of practice and experience with a variety of turns and steps, advanced dancers get inputs into even more complex structures and improve their dancing styles.
---
Cologne
+++  Please check out contents&requirements of our courses (scroll down)! +++
+++ Our next course block will start 22.10.! Sundays Beginners (Bürgerhaus Stollwerck), Tuesdays Advanced (Tor 28), Intermediate tbd.+++
+++ Join our free introductory Schnupperkurse to get to know Forró. Next dates: 26.9. (Kennedy-Ufer 2, 20:45), 18.10. (Niehler Freiheit, 19:30) +++
Mondays:
14.08.-02.10.2023
18:45 Intermediate: Roots Immersion with Betsy & Gui
19:45 Free Dancing
(until approx. 22:00)
Tuesdays:
15.08.-03.10.2023
18:45 Advanced with Hana & Lukas
19:45 Newcomers & Beginners with Giselli & Carolina
19:45 Free Dancing
(until approx. 22:00)
Contents and Requirements:
Tuesdays Newcomers & Beginners with Giselli and Carolina:
This course will give an introduction in Forró, its rhythm, the embrace, musicality, turns and movements. It is for newcomers and beginners. Newcomers will learn the basics while beginners will improve their dance skills and learn some variations. No requirements needed.
Mondays Intermediate: Roots Immersion with Betsy and Gui:
The intermediate course will focus on improving fundamental  concepts such as rythm, basic steps and weight transfer, which allow the student to learn more quickly and progress to next levels and complex classes. In this course we'll focus on caminhadas, pião, axis turns and sacadas – essential moves that precede more dynamic sequences. REQUIREMENTS: Before you join the intermediate classes, it is necessary to have completed 2 or more beginners courses, where you'll learn the embrace, basic concepts, turns and a little bit about the forró parties and history.
Tuesdays Advanced with Hana and Lukas:
In this course we will focus on concepts of musicality, creativity, and techniques of Forró and will discover known and new steps on a deeper level. REQUIREMENTS: you have taken part in at least 2 intermediate course blocks and already mastered more complex movements, steps, and concepts, as well as being able to quickly learn new elements.
Location:
Kennedy-Ufer 2, Köln Deutz
Other Forró courses in Cologne:
https://www.sorriso-sport-tanz.de/forro.html
---
Aachen
+++ We will start a new course series on 03.09.2023  +++
In Aachen the classes take place on Mondays!
Mondays with Lana, Claudius and Jonas:
6:30pm-7:30pm Roots
7:30pm-8pm Free Dancing
8pm-9pm Beginners
from 9pm Free Dancing
Raststätte
Lothringerstr. 23
52062 Aachen

Other Forró courses in Aachen:
https://hochschulsport.rwth-aachen.de/go/id/owdpu
---
Bonn
+++ We will start a new course series on 24.08.2023  +++
In Bonn the classes take place on Thursdays!
7pm-8pm Intermediate
8pm-8:30pm Free Dancing
8:30pm-9:30pm Beginners
from 9:30pm Free Dancing
Freie Waldorfschule (Aula-Foyer)
Stettiner Str. 21
53119 Bonn

---
Essen
+++Currently no classes in Essen+++
Next dates of Festinhas in Essen (Mehrgenerationenhaus Essen West): 22.09., 20.10. (TBD)
---
Duisburg
In Duisburg the classes with Viktor take place on Mondays!
17.8.-15.10.23
7:00pm-8:00pm Intermediate
8:00pm-9:15pm Beginners
from 9:15pm Free Dancing
Evangelisches Jugendzentrum Neudorf-West
Gustav-Adolf-Str. 65
47057 Duisburg

---
For information about the classes feel free to contact us.