Cursos

Appealing to the eye and easy to learn in all our locations in Cologne, Aachen, Bonn, Essen and Duisburg you can attend the regular Forró classes. You are always welcome to visit us for a free trial lesson. To get the latest information about courses, parties, etc. you can join our WhatsApp group: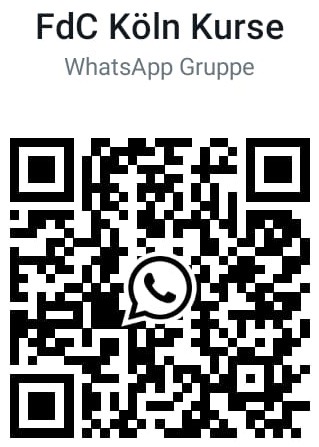 Corona info:
Please test yourself before participating in the courses.
Levels of Forró classes:
Beginners: Starting learning the basic steps and turns throughout around 3 to 6 months of classes.
Intermediate: After finishing a beginners course with good knowledge and experience of basic steps and turns, intermediate courses show specific topics and connected turns and steps and help to find dancing styles.
Advanced: After a lot of practice and experience with a variety of turns and steps, advanced dancers get inputs into even more complex structures and improve their dancing styles.
---
Cologne
In Cologne the classes take place on Sundays – we will resume classes in February!
Sundays with Giselli & Carolina:
05.02.-.26.03023
6pm-7pm Intermediate
7pm-8pm BeginnerPlus (continuing last year's beginner course)**
8pm-9pm Free Dancing
* Coming soon: Our Advanced Working Group/Training gives advanced dancers space to develop new steps and practice based on videos or individual experiences. This is an initiative by our club members, is not guided by an instructor and may therefore not take place. Stay informed in our Whatsapp groups or ask us directly!
** You're a complete Forró beginner? Contact us via email to get info on free introductory trial classes! We will start a new beginners course in April/May.
Location TBD
---
Aachen
In Aachen, we are currently on our winter break – we will keep you updated on new courses here!
Raststätte
Lothringerstr. 23
52062 Aachen

---
Bonn
In Bonn, we are currently on our winter break – we will keep you updated on new courses here!
Freie Waldorfschule (Aula-Foyer)
Stettiner Str. 21
53119 Bonn

---
Essen
+++Currently no classes in Essen+++
Sporthalle Schützenbahn
Schützenbahn 70, Eingang Waldthausenstraße (Gebäude S-M)
45127 Essen
---
Duisburg
In Duisburg the classes with Viktor take place on Mondays.
Courses run until 30.01.2023
7:00pm-8:00pm Intermediate
8:00pm-9:15pm Beginner
from 9:15pm free dancing
Evangelisches Jugendzentrum Neudorf-West
Gustav-Adolf-Str. 65
47057 Duisburg
---
For information about the classes feel free to contact us.