Cursos

Appealing to the eye and easy to learn in all our locations in Cologne, Aachen, Bonn, Essen and Duisburg you can attend the regular Forró classes. You are always welcome to visit us for a free trial lesson. To get the latest information about courses, parties, etc. you can join our WhatsApp group: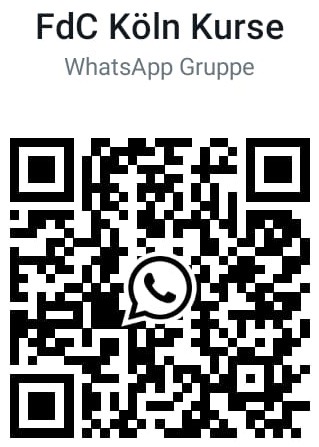 Corona info:
Please test yourself before participating in the courses.
---
Cologne
In Cologne the classes take place on Sundays:
+++ No courses in Cologne in September but free dancing on Sundays and Tuesdays +++
Sundays with Giselli & Carolina:
New courses starting 16.10.2022
6pm-7pm Intermediate
7pm-8pm Beginner
7pm-8pm Advanced Working Group
from 8pm free dancing and trial course
FdC-Clubhouse
Deutz-Mülheimer Straße 117
51063 Köln
---
Aachen
In Aachen the classes with Lynn & Lukas take place on Mondays.
New courses starting 12.09.2022
6:30pm-7:30pm Advanced (Roots)
7:30pm-8pm free dancing
8pm-9pm Beginner
from 9pm free dancing

Raststätte
Lothringerstr. 23
52062 Aachen

---
Bonn
In Bonn the classes with Hana und Lukas take place on Thursdays.
New courses starting 08.09.2022
7pm-8pm Advanced
8pm-8:30pm free dancing
8:30pm-9:30pm Beginner
from 9:30pm free dancing

Freie Waldorfschule (Aula-Foyer)
Stettiner Str. 21
53119 Bonn

---
Essen
In Essen the classes with Rudolfo take place on Wednesdays.
Registration: HSP Uni Essen-Duisburg
During semester (begins 13.04.2022)
8:15pm-9:45pm Beginner
Sporthalle Schützenbahn
Schützenbahn 70, Eingang Waldthausenstraße (Gebäude S-M)
45127 Essen
---
Duisburg
In Duisburg  the classes take place on Tuesdays (currently on summer break).
During the semester
6:30pm-7:30pm Intermediate
7:30pm-8:30pm Beginner
from 8:30pm free dancing
Evangelisches Jugendzentrum Neudorf-West
Gustav-Adolf-Str. 65
47057 Duisburg

---
For information about the classes feel free to contact us.