Events
Previous events
26.11.2022 Thanksgiving Dancing at FdC and Workshops with Anna and Junio
Escape the winter blues at our Forró Thanksgiving Dance! Grab your dancing shoes, we provide music by FdC DJs Paulão and Francisco and cool drinks at Thanksgiving-y prices!
Water: 0,50€
Coke, Beer, Mate: 1€
Also: Forró&Brazil Raffle for all participants! Surprise!
Before the party: Workshops with Anna and Junio from Forró Aachen! We are excited to have them in Cologne!
18:00 Intermediate
19:30 Beginner
Price per Workshop: FdC: 5€, Non-FdC: 10€
Price for party: FdC and Workshop participants: 4€, Non-FdC: 7€
Short course with Carol & Wesley – November in Köln
Carol & Wesley are back in Cologne!
Your chance to see them again after our Festival, or meet them for the first time!
This November, they will give a short course on three Mondays (7., 14., 21.11.).
Schedule:
18:30 Advanced
19:45 Open level – 07.11.: Comfort; 14.11.: Connection; 21.11.: Musicality
Preise:
1 Level: 7€ (FdC member) / 12€ (Non FdC member)
2 Level: 12€ FdC member) / 20€ (Non FdC member)
Location:
FdC Home
Deutz-Mülheimer Str. 117
Köln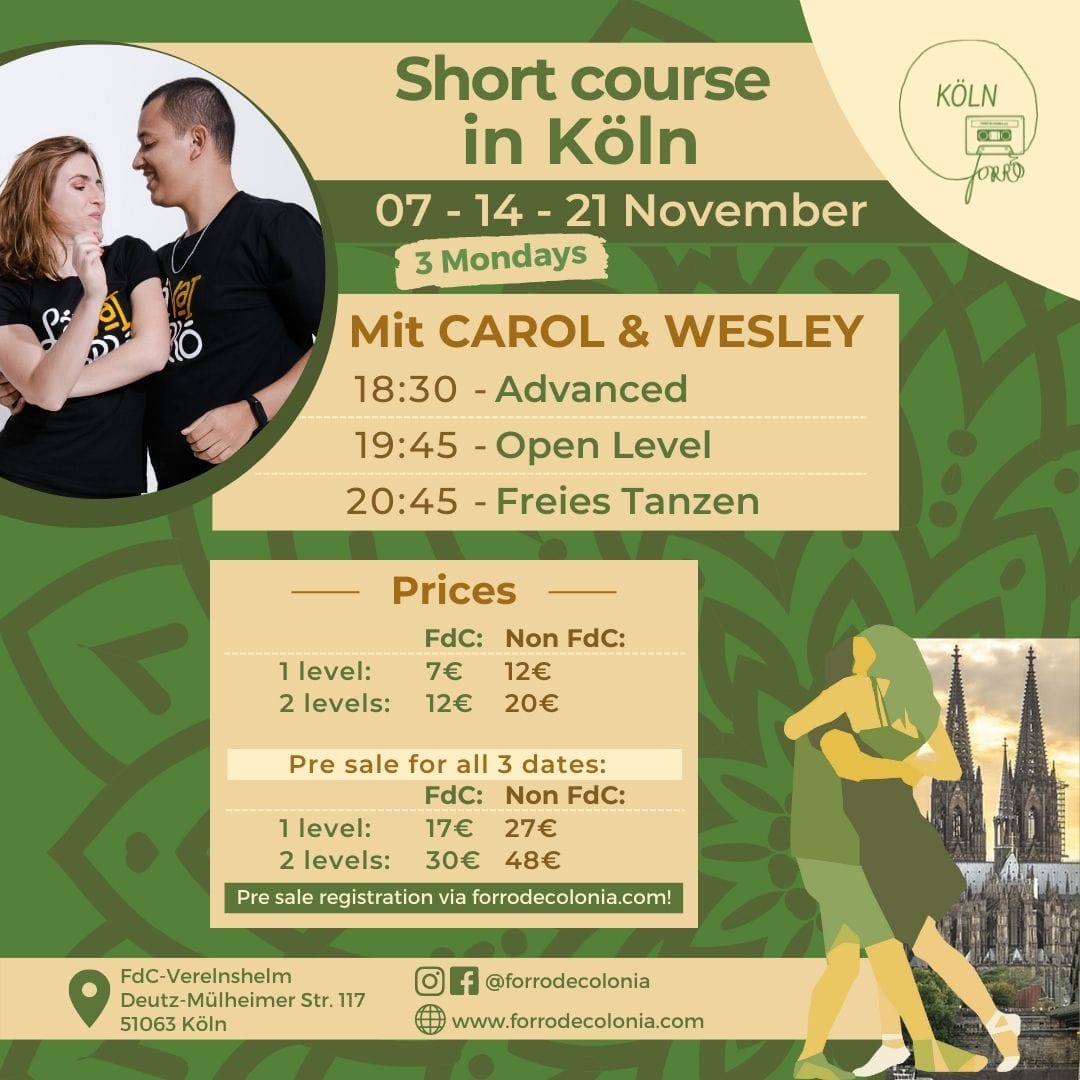 Be ready for Forró on Saturday, 22.10. at FdC Home!
20:30 Free Dancing with Bar
at FdC Home (free for everyone!)
Before that, 2 workshops with the phenomenal
Rafael Wilker
(see videos below!)
18:00 Advanced,
suitable for advanced Forrozeir@s with experience
19:30 Open level (Costa com Costa: Variations!),
suitable for everyone who feels secure with the basics of Forró and tried the Costa com Costa already
Prices:
FdC members: 1 WS: 10€, 2 WS 15€
Non members: 1WS: 15€, 2 WS 20€
Cashless payment only! No registration necessary.
Come dance with us!