Kurse

Schön anzusehen und leicht zu erlernen in allen unseren Standorten Köln, Aachen, Bonn, Essen und Duisburg können Forró-Kurse besucht werden. Gerne könnt ihr jederzeit zu einer kostenlosen Schnupperstunde vorbeischauen und euch von uns in den Bann des Forró ziehen lassen. Um aktuelle Infos über Kurse, Partys, etc. zu bekommen könnt Ihr unserer WhatsApp Gruppe beitreten: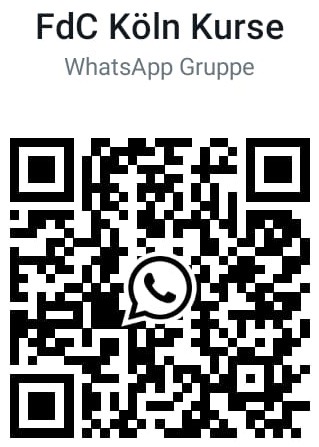 !!!!Freies Tanzen ist immer kostenlos!!!!
Levels unserer Forró Kurse:
Beginners (und BeginnersPlus): Lerne bei uns die Grundschritte und -drehungen, in ca. 6 Monaten.
Mittelstufe/Intermediate: Nach dem Besuch von Anfängerkursen habt ihr ein gutes Grundwissen und Erfahrung mit den Grundschritten und -drehungen, um im Mittelstufekurs auf speziellere Themen, Sequenzen und Techniken zu lernen.
Advanced: Mit viel Übung und Erfahrung mit einer Vielzahl von Schritten und Drehungen können fortgeschrittene Forrozeir@s mehr Input erhalten zu komplexen Inhalten und ihre Tanzstile verbessern.
---
Köln
+++  Bitte schaut auch in die Kursbeschreibungen und Anforderungen (s.u.)! +++
+++ Unser nächster Kursblock startet am 22.10.: Sonntags Beginners (Bürgerhaus Stollwerck), Advanced Dienstags (Tor 28), Intermediate tbd. +++
+++ Lerne Forró in unseren kostenlosen Schnupperkurse kennen! Nächste Termine: 26.9. (Kennedy-Ufer 2, 20:45), 18.10. (Niehler Freiheit, 19:30) +++
Montags Kennedy-Ufer 2:
14.08.-02.10.2023
18:45 Intermediate: Roots Immersion with Betsy & Gui
19:45 Free Dancing
(bis ca. 22:00)
Dienstags Kennedy-Ufer 2:
15.08.-03.10.2023
18:45 Advanced with Hana & Lukas
19:45 Newcomers & Beginners with Giselli & Carolina
19:45 Free Dancing
(bis ca. 22:00)
Kursinhalte und Anforderungen:
Tuesdays Newcomers & Beginners with Giselli and Carolina:
This course will give an introduction in Forró, its rhythm, the embrace, musicality, turns and movements. It is for newcomers and beginners. Newcomers will learn the basics while beginners will improve their dance skills and learn some variations. No requirements needed.
Mondays Intermediate: Roots Immersion with Betsy and Gui:
The intermediate course will focus on improving fundamental  concepts such as rythm, basic steps and weight transfer, which allow the student to learn more quickly and progress to next levels and complex classes. In this course we'll focus on caminhadas, pião, axis turns and sacadas – essential moves that precede more dynamic sequences. REQUIREMENTS: Before you join the intermediate classes, it is necessary to have completed 2 or more beginners courses, where you'll learn the embrace, basic concepts, turns and a little bit about the forró parties and history.
Tuesdays Advanced with Hana and Lukas:
In this course we will focus on concepts of musicality, creativity, and techniques of Forró and will discover known and new steps on a deeper level. REQUIREMENTS: you have taken part in at least 2 intermediate course blocks and already mastered more complex movements, steps, and concepts, as well as being able to quickly learn new elements.
Adresse:
Kennedy-Ufer 2, Köln Deutz
Andere Forró-Tanzkurse in Köln: https://www.sorriso-sport-tanz.de/forro.html
---
Aachen
+++ Die Kurse starten wieder am 03.09.2023 +++
In Aachen findet der Unterricht Montags statt!
18:30-19:30 Roots
19:30-20:00 Freies Tanzen
20:00-21:00 Beginners
21:00-23:00 Freies Tanzen
Raststätte
Lothringerstr. 23
52062 Aachen

Andere Forró-Tanzkurse in Aachen:
https://hochschulsport.rwth-aachen.de/go/id/owdpu
---
Bonn
+++ Die Kurse starten wieder am 24.08.2023 +++
In Bonn findet der Unterricht Donnerstags statt!
19:00-20:00 Mittelstufe
20:00-20:30 Freies Tanzen
20:30-21:30 Anfänger
ab 21:30 Freies Tanzen
Freie Waldorfschule (Aula-Foyer)
Stettiner Str. 21
53119 Bonn

---
Essen
+++ Derzeit keine Kurse in Essen +++
Kommende Festinhas in Essen (Mehrgenerationenhaus Essen West): 22.09., 20.10. (TBD)
---
Duisburg
In Duisburg finden die Kurse bei Viktor montags statt. Am 17.8. startet der neue Semesterkurs:
17.8.-15.10.23
19:00-20:00 Uhr Mittelstufe (Nur mit FdC-Stempelkarte)
20:00-21:15 Uhr Beginners (Anmeldung auch über Hochschulsport)
ab 21:15 Uhr freies Tanzen (für alle!)
Evangelisches Jugendzentrum Neudorf-West
Gustav-Adolf-Str. 65
47057 Duisburg

---
Für mehr Infos zu den Kursen könnt ihr uns gerne kontaktieren.